Main Interface Introduction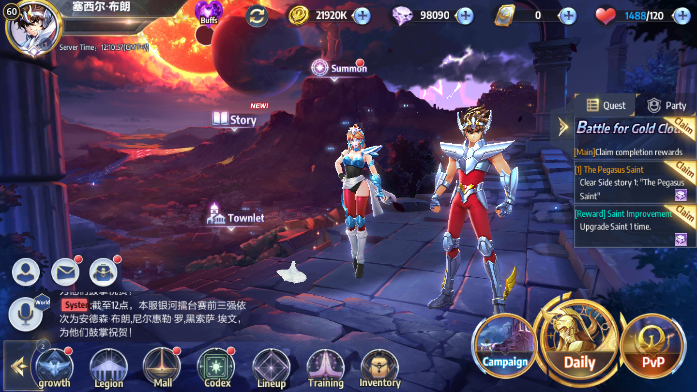 (Lobby)
From left to right on the top of the screen are your avatar, nickname, experience bar and buff bar. Tap on your avatar to change your game settings. For example, your name, account, graphics, recording, etc.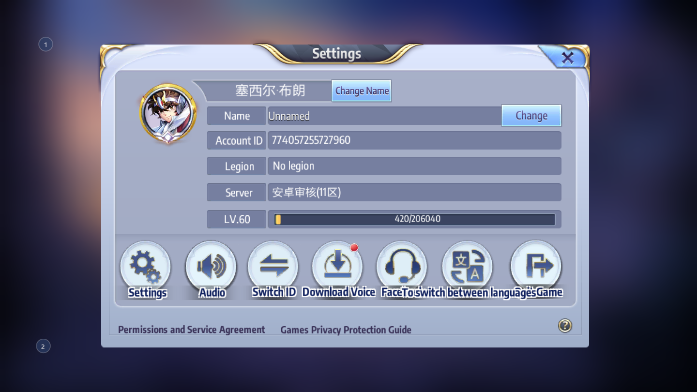 (What you see after tapping your avatar)
The penguin icon

below your avatar is the Community entrance (game platforms, guide center, etc.)
Your buffs are displayed with buff icons

to the right of your nickname (2x buffs, Ancient Ruins Buffs, etc.). You can choose whether to use your buffs here.
The scrolling announcement bar is at the top of the screen (it is hidden when there are no announcements). Here you will see emergency announcements, opening times of timed events, etc.
(Scrolling announcement bar)
On the top right you have your resource bar

. It shows your current resources, from left to right: Gold, Diamonds and Stamina.
Below the resource bar you have the Phoenix Nirvana (special events), Rankings and events.

Phoenix Nirvana: Entrance for special events. Recharge ¥6 for Phoenix Ikki.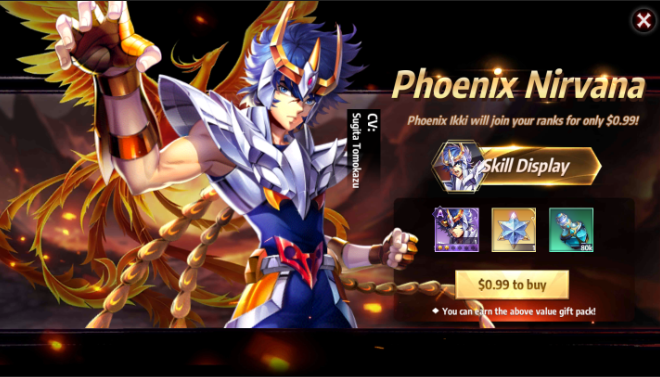 (Event - Phoenix Nirvana)
Rankings: Display rankings for various game content. Tap on the button in the middle

to check ranking rules.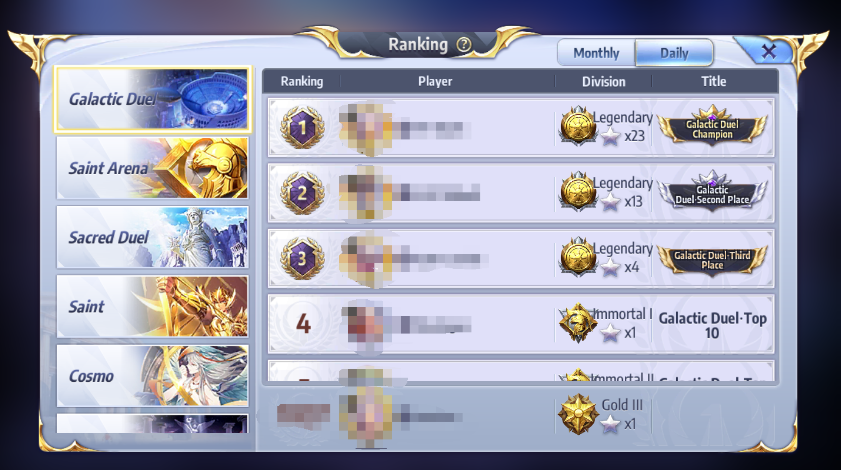 (Rankings)
Events: Entrance to current in-game events and game announcements.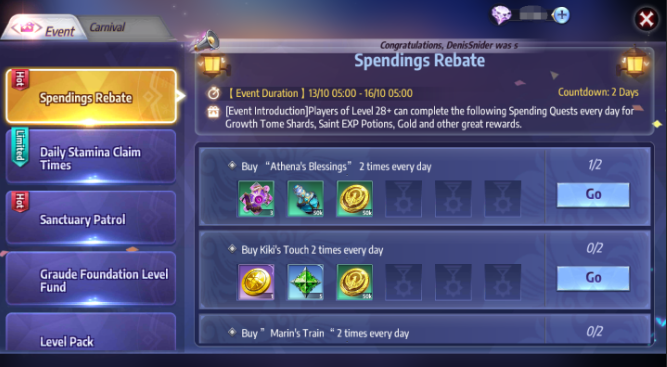 (Event menu)
Tap Announcement in the top-left corner to enter the announcement menu for an overview of current announcements.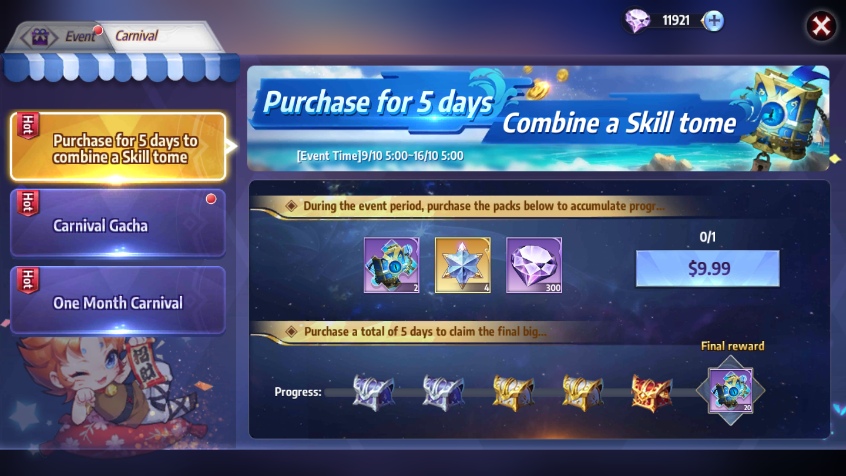 (Announcements)
In the middle of your screen you have Summon, Story Mode, Town, and Saint Growth Management (Seiya), and Special Events (Kiki).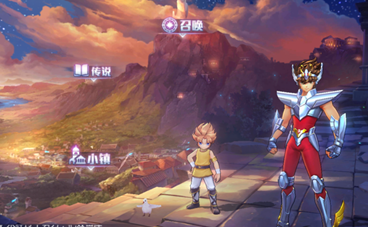 (Middle area)
Special Events (Kiki): Tap on Kiki in the middle of the screen to enter the Special Event menu.
Saint Management (Seiya): Tap on Seiya to enter the Growth Management menu. Tap and hold on Seiya for three seconds to change your avatar or enter the AR Summon.
Summon: Spend Astral Gems for random-quality Saints. This is one of your main ways of acquiring new Saints.
Story Mode: Contains interesting game modes like [Nightmare Escape] and [Story Mode].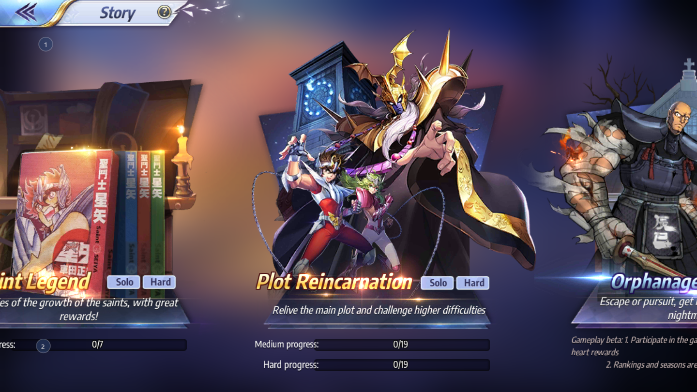 (Story mode menu)
1. Nightmare Escape (PVP): An asymmetrical multiplayer battle. Players assume the roles of the Butler (1 player) and Orphans (several players). Orphans have to repair broken clocks and avoid the Butler to escape from the nightmare.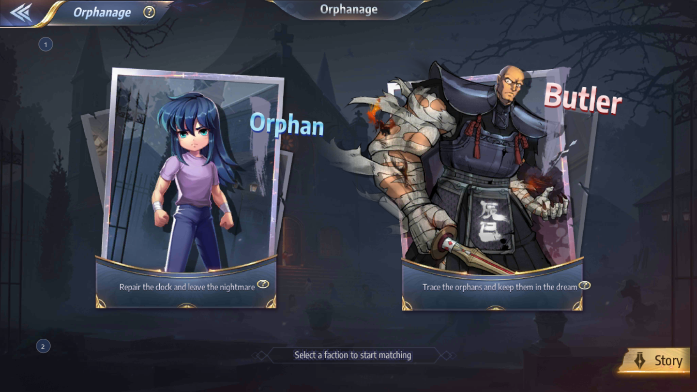 (Nightmare Escape)
2. Story Mode (PvE): A solo game mode where you clear stages. Place yourself into the shoes of the main character and experience some of the great moments from the manga. To experience this, you have to tap on your avatar from the lobby and download additional resources.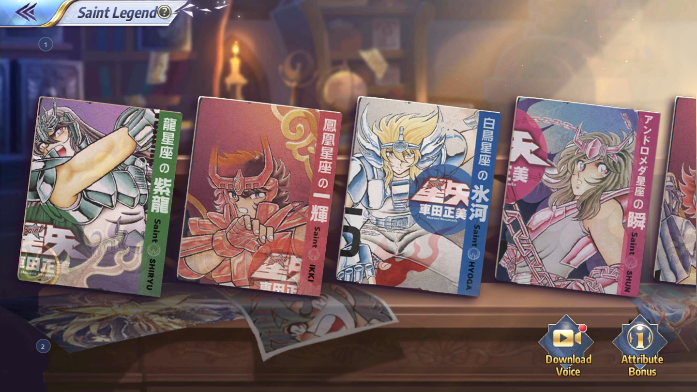 (Story Mode)
The track quest and party entrances are on the right-hand side. Tap the

icon to hide it. There are main quests and bonus story quests, and you can also unlock training quests later. If a quest is locked, it means that you do not meet its requirements, which usually means you are too low level or haven't completed the prerequisite instances (for main story and bonus story).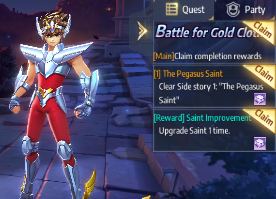 (Tracked quests)
Party Lobby: Tap the party button

to enter the Party Lobby

where you can search for or create a team.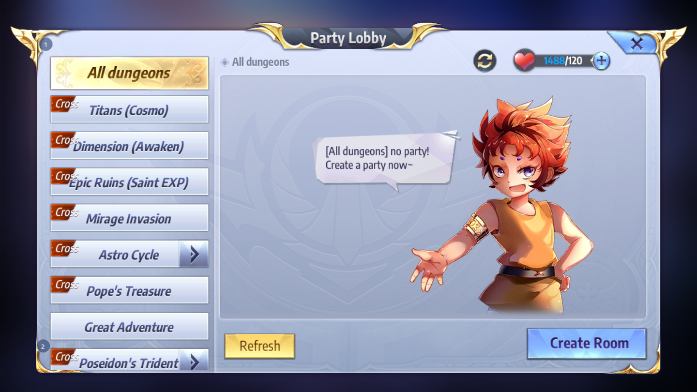 (Party lobby)
Tap the Create Room button in the bottom right corner to create a party. Then select an instance and level requirement before tapping create.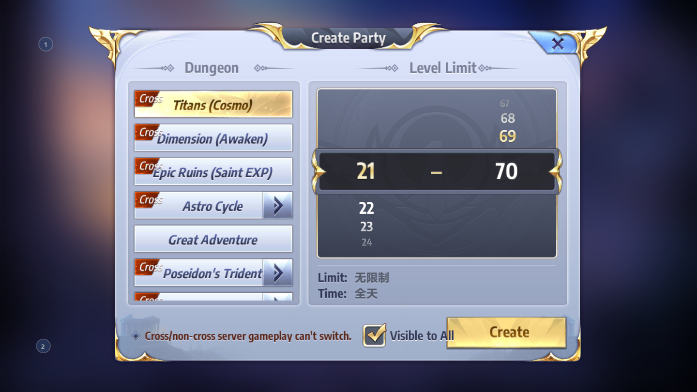 (Create party)
Social functions are available in the bottom-left part of the screen.
tells you when the next new game content will be unlocked.

this icon is for Friends. There you can send and claim Stamina & Hearts, and communicate with friends, etc.

Is the mail button. Here you can claim rewards. Mail will be saved for 30 days, and up to 50 mails can be saved at once.

is the voice chat hotkey. Tap it to change channels (Legion, World, Party or Nearby). Hold down to record a message and drag to cancel.

Tapping in the chat window will display the chat channels

. You can change between them to talk to different groups of players.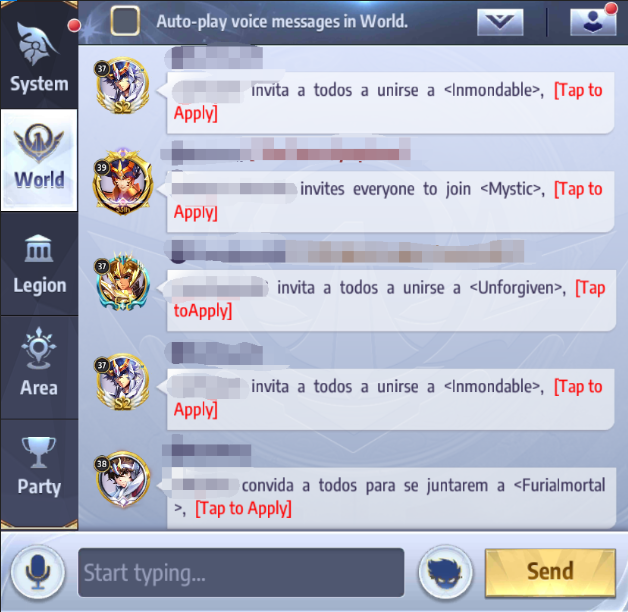 (Chat Window)
The bottom bar is the menu. Tap the leftmost arrow to show/hide the menu.

Growth: This is your entrance to the Saint Growth Management menu in which you can level up and awaken your Saints.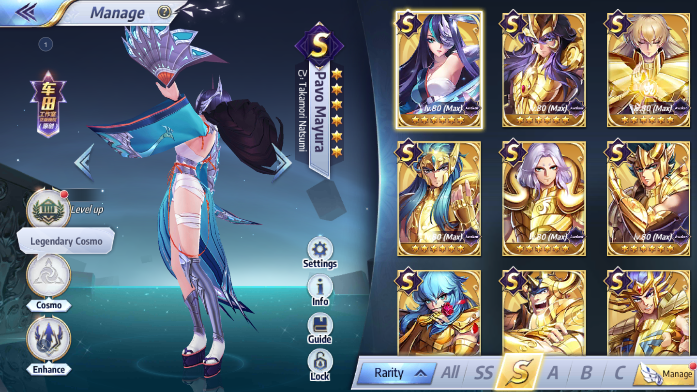 Legion: Here you can join/create a legion. If you are already a member of a legion, you can tap this button to enter the legion menu and take part in various legion game content.
Mall: This is the in-game mall. It contains sev ral sub-tabs in which you can buy various items.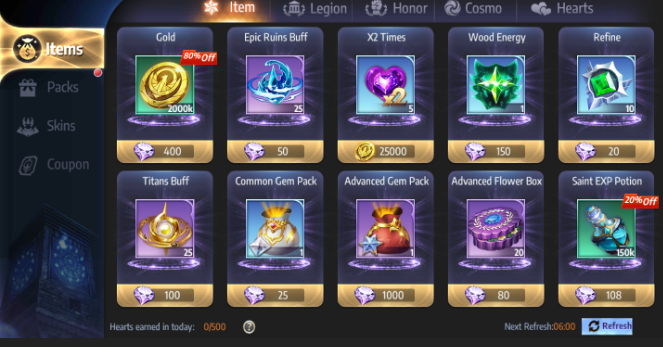 Codex: There are a total of four codices: Saint Codex, Training Grounds Codex, Cosmo Codex, and Memory Realm.
1. Saint Codex: Contains information of all the Saints currently in the game.
2. Cosmo Codex: Contains information of all the Cosmo currently in the game.
3. Training Grounds Codex: The areas of the training grounds of every Saint. Collect all the Saints who trained in an area to unlock it.
4. Memory Realm: Here you can view the animations for all cleared stories at your own leisure.
Lineup: Here you can edit and save your default lineup which you'll use when entering instances.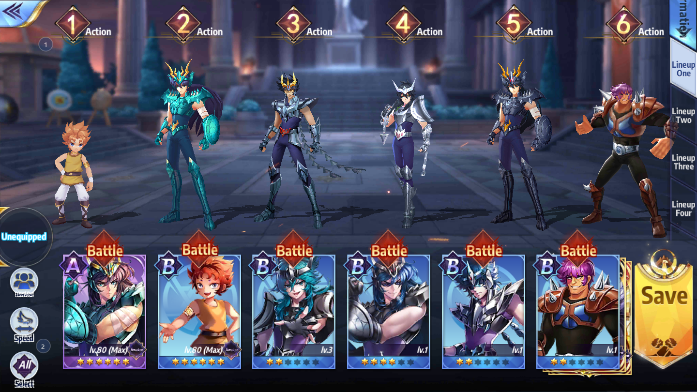 Training: Entrance to the Training Grounds. Here you can save Stamina, and be rewarded with Chronos Stamina. Complete Daily quests for Activity which you use to level up your Training Grounds.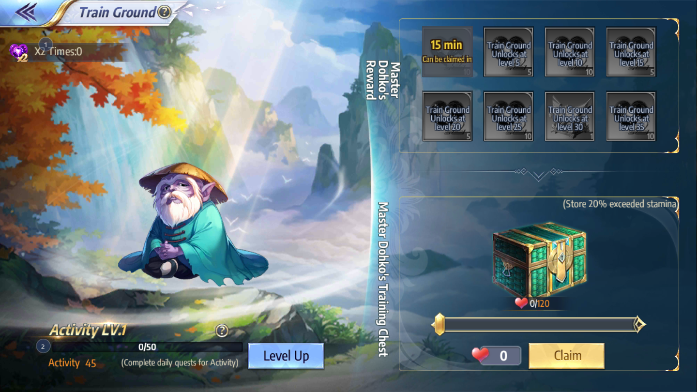 Inventory: This is where all of your materials and items are stored. You can also sell surplus materials for a small amount of Gold.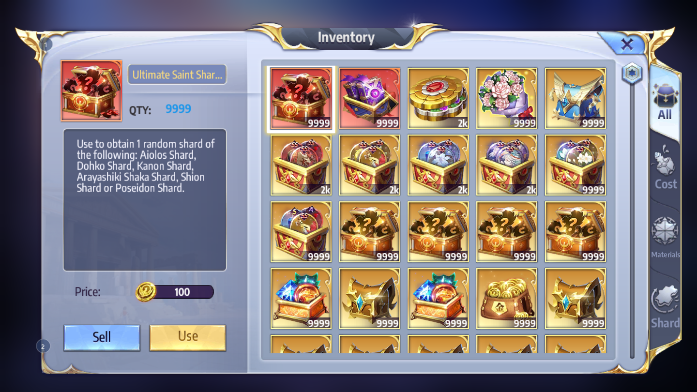 Instances, Daily and Quests instances are in the bottom-right corner.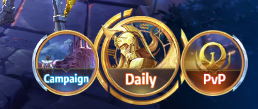 Campaign: Here you can find Bonus Story Instances, Saint Quests, Dimensional Space (grants Awakening material), Titan Temple (grants Cosmo), and Ancient Ruins (grants Saint EXP Potions and Account experience). These all cost Stamina.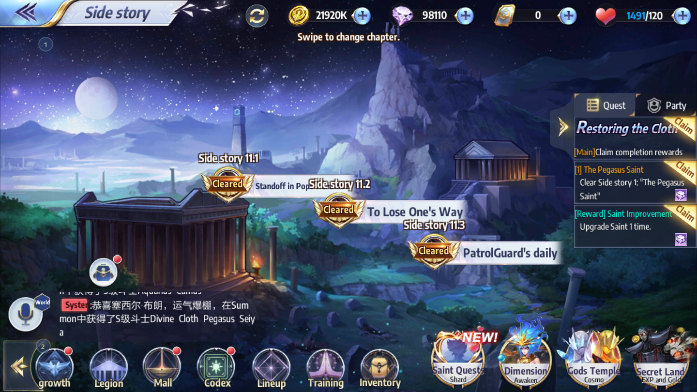 (Campaign)
Daily: Comes with three sub-tabs: Daily, Activity and Achievements. Daily contains game content which can be completed daily by spending Stamina, but has no limit on the number of times you can enter them; content which has a set limit of entries per day, or which you have to spend items to enter; timed events which are only available during certain times of the day. Tap any of them to view a brief introduction and what you can get from them.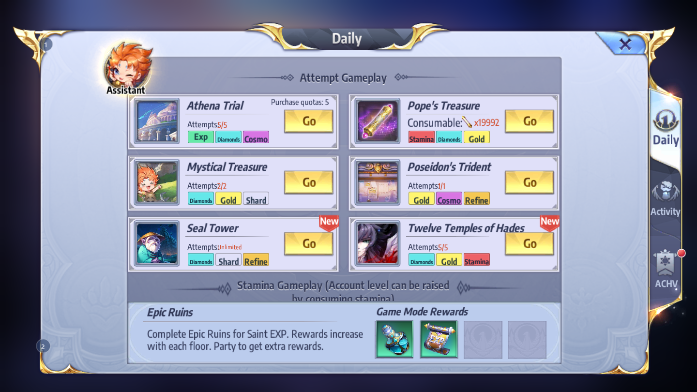 Activity: Complete daily tasks to accumulate Activity. Reach certain milestones to claim rewards. Activity can also be used to level up your Training Grounds. Tapping the "Go To" button quickly takes you to where you can complete the quest. Quests and quest progress resets daily.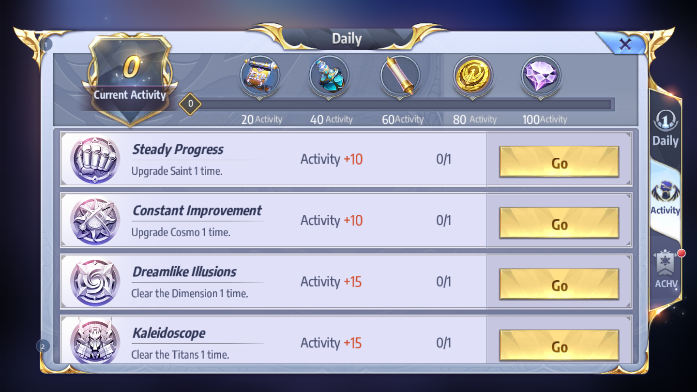 Achievements: Complete set goals or reach certain milestones for great rewards.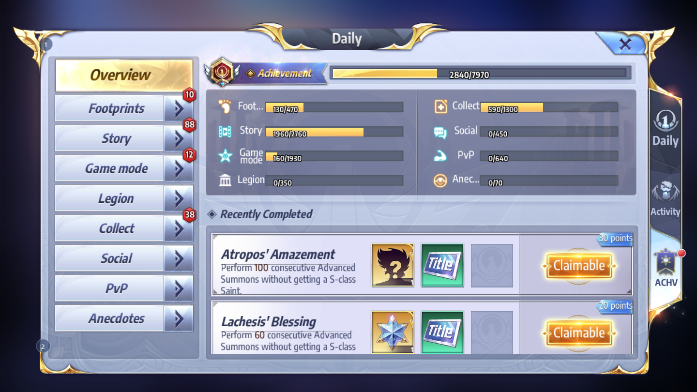 PVP: Contains Galactic Duel, Saint Arena, Training Arena, and Sacred Duel. Tapping the corresponding button takes you to its entrance in Town.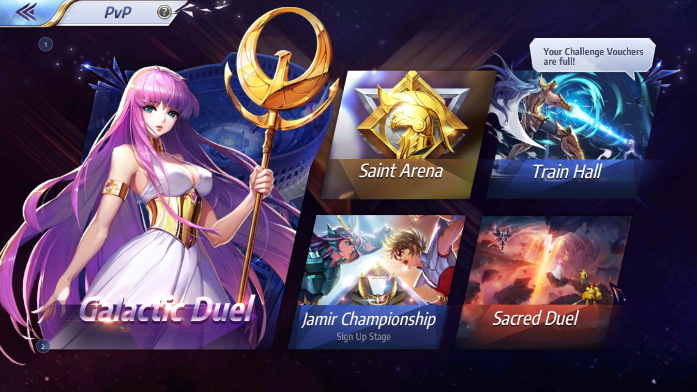 (PvP)
Galactic Duel: Available daily 12:00 - 13:00 & 20:00 - 21:00. This is a real-time PvP mode and it has 7 divisions: Bronze, Silver, Gold, Platinum, Diamond, Vanquishers, and Legendary. You get promoted and demoted depending on your performance. Battle to get Honor which can be spent in the Honor Shop for rare items.
Saint Arena: An offline ladder type PvP available all day. You get 5 challenge attempts that are reset at 05:00 each day, and more can be bought from the shop. You will be shown four random opponents, each displayed with their points and rank. Tapping on one of them lets you check detailed information, such as their lineup. If you are unhappy with the opponents you are matched with, you can tap the "Refresh" button for a new set of opponents. You get 5 free refresh attempts per day and they are also reset at 05:00, and more can be bought with Diamonds.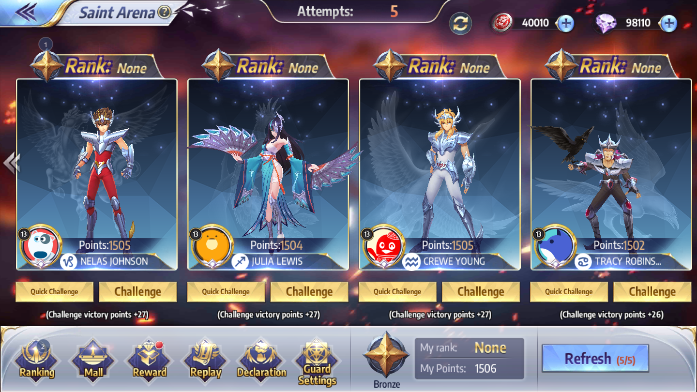 Training Arena: The most basic battle strategies are taught in the beginner training. Here, you have to complete each stage with a pre-determined lineup. The attributes and skills of this lineup cannot be altered and are not affected by your own Saints. Check your skills and take note of the hints to pass each stage. Each cleared stage grants a few Diamonds. In the Elite Training Arena, you will face off against tougher lineups. Here you will have to use your own Saints, and to beat each stage, you will have to take special note of the enemy Saints' information.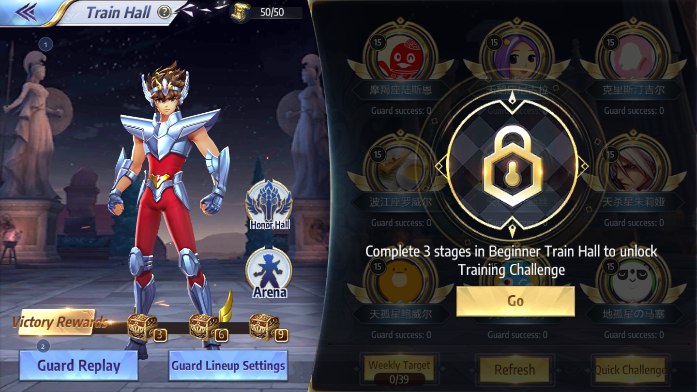 Sacred Duel: Here you take part in cross-server matchmaking where two players battle each other in real time. It is also a place where players from different servers may compete and communicate with each other. Players battle with their own Saints and there will be three assist Saints every week. The level, skills and awakening of all Saints are set to the same rank. The bonus attributes for Cosmo have been removed, but special attributes of legendary Cosmo still take effect. Tap on a Saint in the lineup menu to view its Cosmo and skills.