Obtaining Experience
Account Experience:
The experience needed to level up your account. By leveling up your account, you can unlock more events and game content. The main way of gaining experience is through completing instances, which costs Stamina. Generally speaking, 1 Stamina = 10 experience.
240 Account Experience can also be gained from the Daily Activity reward.
Saint Experience:
Saints require large amounts of experience to level up. Once upgraded to the right level, they can be Enlightened and Awakened to improve their overall attributes. Mainly obtained via the following ways:
1. Clearing Trials of Athena:
You receive 5 free challenge attempts per day. Clearing higher levels gives you more experience.
If you are not powerful enough, you can sweep completed levels for quite a bit of experience.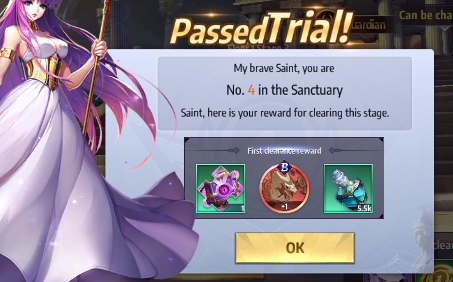 2. Epic Ruins Startrail:
Spend Stamina and gain Saint experience.
You get more experience for completing higher levels. Party up with other players to receive additional party bonus experience. The party leader gets a bonus as well.
Legion commanders can also purchase legion bonus buffs, which increases the battle rewards from Ancient Ruins for all members.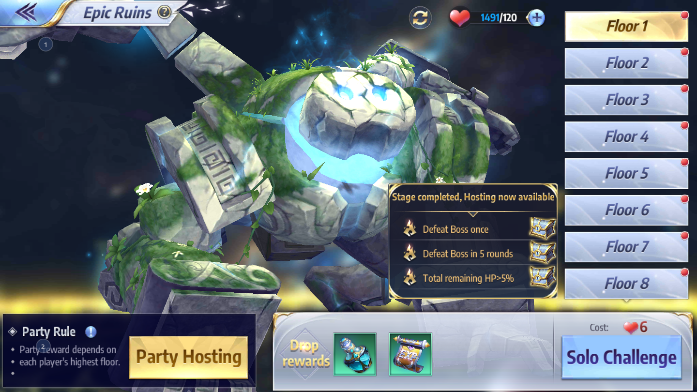 3. Daily Training:
By completing daily training quests, you can also gain a large amount of Saint EXP Potions.
Up to 4 of these can be completed each day. Quests of a higher Star level grant better rewards.
4. Legion War:
You can earn a large amount of Saint EXP Potions by taking part in Legion War.
You gain more and more Saint experience as your Account Level increases.
5. Mirage Invasion
You can earn a decent amount of Saint experience by playing Mirage Invasion.
You can initiate Mirage Invasion 3 times per day, and join Mirage Invasions initiated by other players up to 6 times per day.
Which means you can play a maximum of 9 times each day. You don't get that much from each game, but playing all 9 games grants you fairly good experience.
6. Legion Commissions
Some Legion Commissions will give Saint experience as their reward.
Completing these ones will give you large amounts of Saint experience.
The rewards of each quest are random, which makes this boil down to luck.
But if you manage to get a quest with Saint experience, you won't be disappointed.
7. Mall:
There are Saint EXP Potions for sale in the Item Mall, but only in small amounts.
You can also exchange Honor Tokens and Legion Tokens in the Honor Shop or Legion Shop for Saint experience.
If you do all of these every day, you can obtain large amounts of experience.