Legion Assault: Complete Strategy Guide
Table of Contents:
1. About Legion Assault
2. For Legion members
3. For Legion Leaders
A new Legion mode, Legion Assault, is here! Have you tried it yet?
In this mode, Legions from different servers clash against one another in a strategic, objective-based match to destroy the enemy's core. Legions spend Monday to Friday collecting materials to build up their defense and then go into battle against another Legion through matchmaking on Saturday.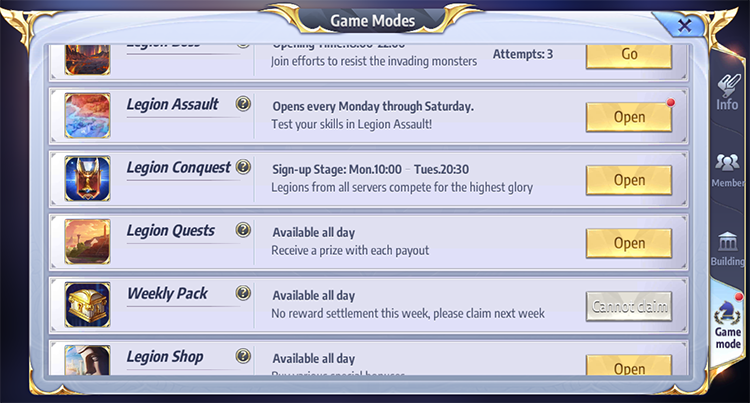 Enter Legion Assault through the Legion interface.
1. About Legion Assault
Preparation Stage: Send Saints to collect fragments and prepare strategic supplies.
Monday 05:00 to Friday 05:00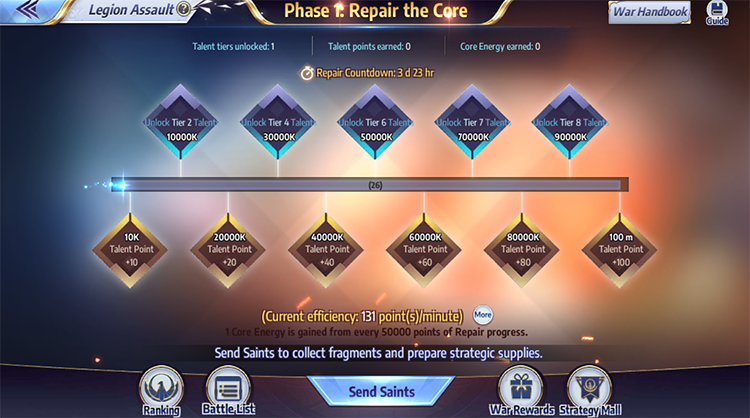 To all Legion Commanders, Vice Commanders, the 3 Commanders appointed by the first two, as well as Legion members, this stage is all about sending out Saints that are 5-Star or above to acquire Repair Points. Every 50,000 Repair Points earned equals 1 point of Core Energy. Both Repair Points and Core Energy will be used to boost the Guardians and lanes during the next stage. As you gain more Repair Points, new talent tiers and Guardian talent skills will be unlocked.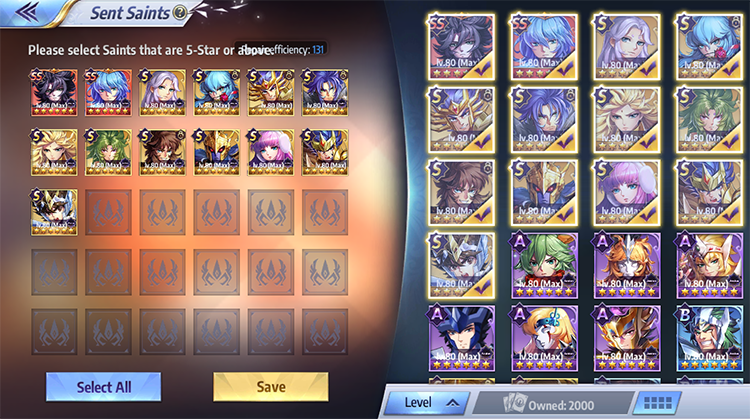 Deployment: Allocate resources and plan your war campaign
Friday 5:00 to Saturday 5:00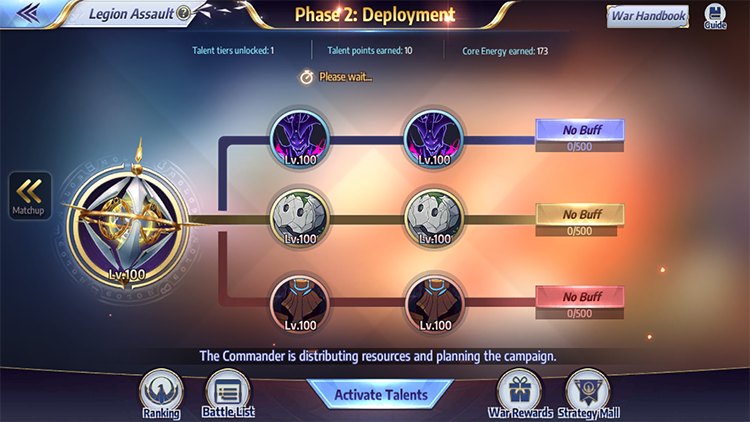 This is where the senior leadership show what they're made of by effectively distributing Core Energy and Talent Points to buff up defenses for the next stage.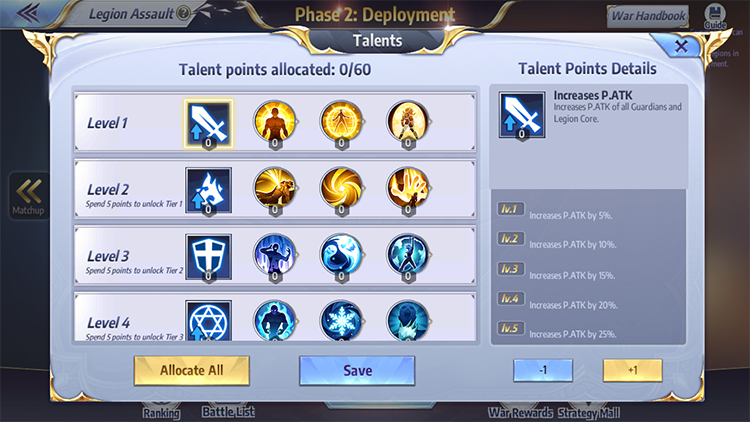 Talent Points: Used in upgrading skills in the pool. Skills must be allocated to the Core and Guardians based on strategy. Spend 5 points in one tier to unlock the next one.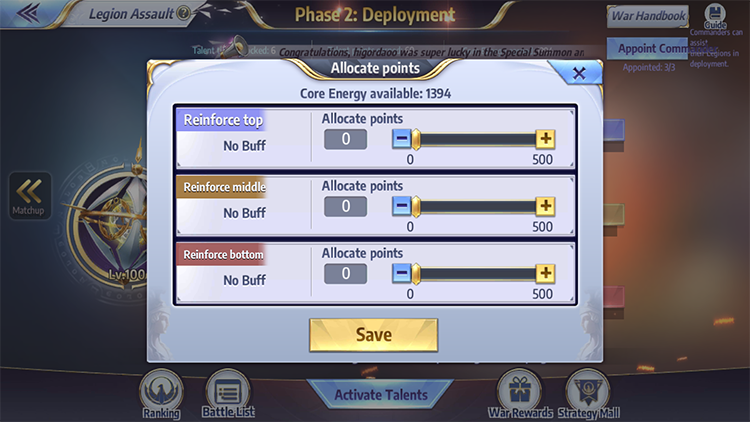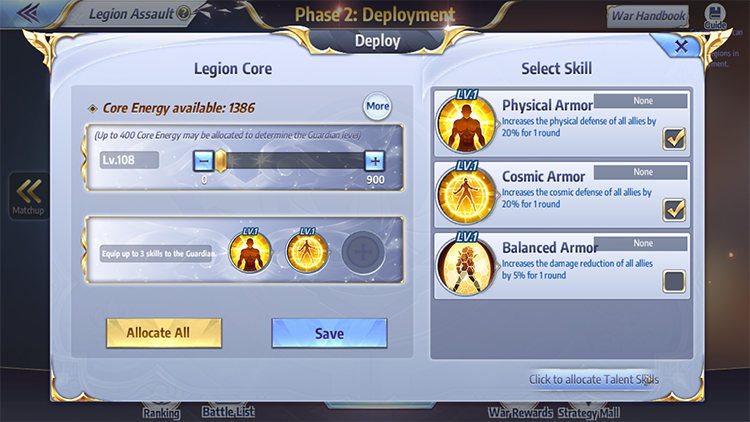 Core Energy: Increases the level of the Guardians or the Core, or boost lane defense.
There are a total of 32 Talent Skills in the pool. Focus on defense to become impenetrable, or focus on offense and destroy enemies. Here are 3 recommended skills. Don't forget to check out the others after Stage 2 unlocks!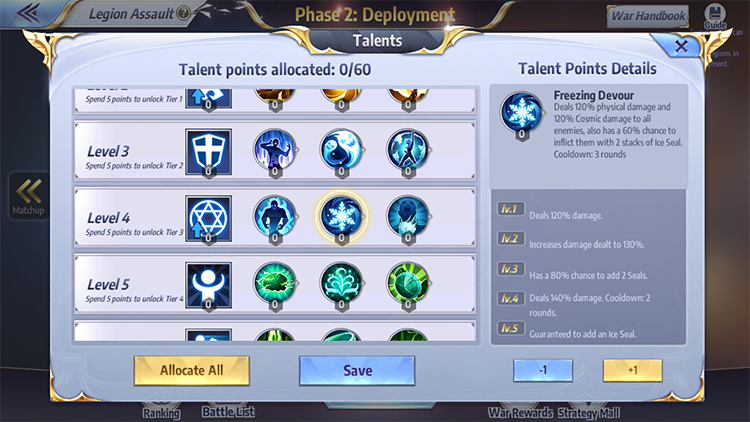 Tier 4, Row 3 - Freezing Devour: Adds Ice Seals to all enemies after attacking. Equip it on the Top Lane Inner Guardian when Hyoga and Camus are deployed to control enemies more effectively.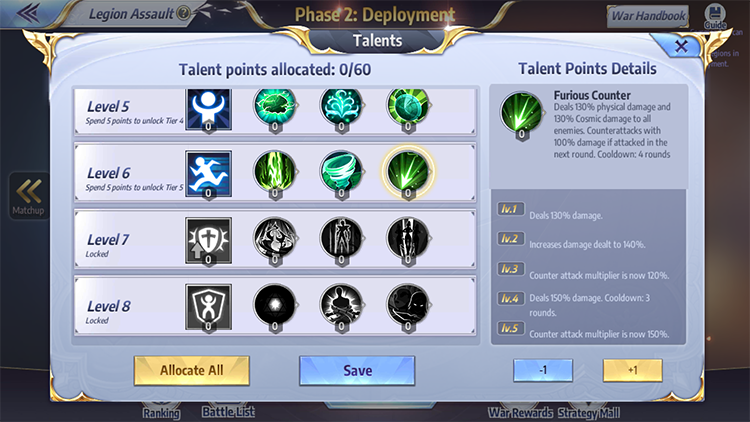 Tier 6, Row 4 - Furious Counter: Preform a counter-attack after being attacked. Lasts for a few rounds after use. Equip it on the Inner Guardian of any lane with other defensive skills to deal damage while defending.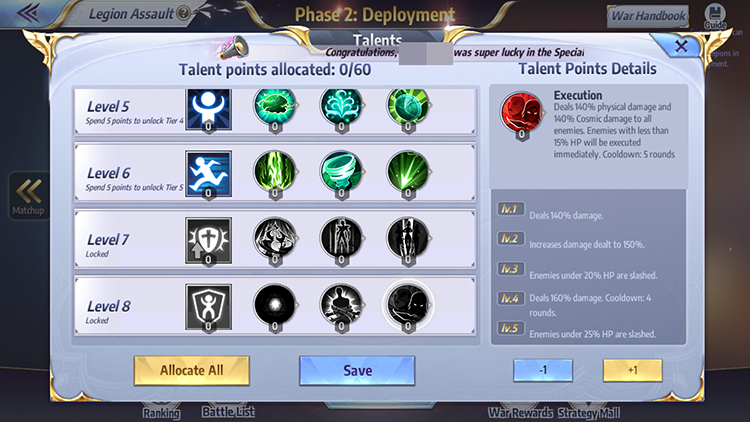 Tier 8, Row 4 - Execution: Instantly kills enemies with HP below a certain threshold. Equip this and the other 2 damage skills to any Guardian to decimate enemies with pure offensive might.
There are many more combinations waiting for you to try!
All-Out Attack: Attack! Attack! Attack!
Saturday 10:00 to Saturday 22:00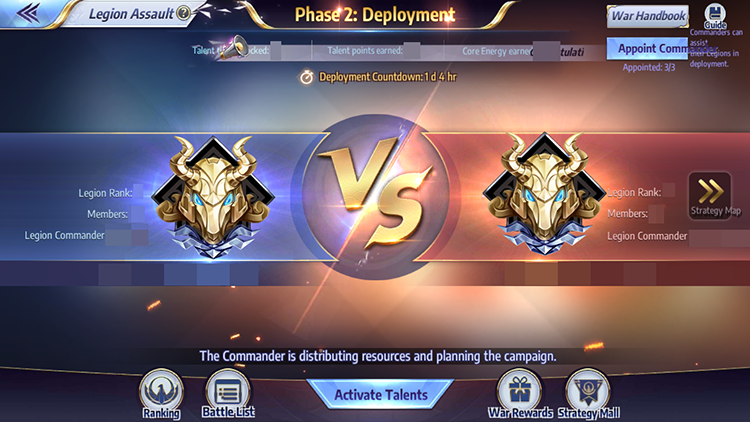 The only thing to do during this stage is to attack! Each Saint can only participate twice during this stage. Sending the same Saint a second time will cost 20 Diamonds.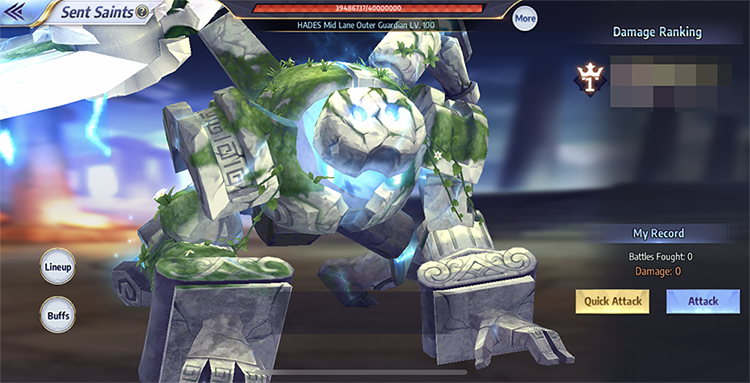 The Guardians and Cores of both sides will become available to attack according to a schedule. Select an enemy Guardian to view its skills and bonuses, and select Saints that counter it. Deploy a physical attack team to the top, a cosmic attack team to the bottom, and a balanced team to the middle.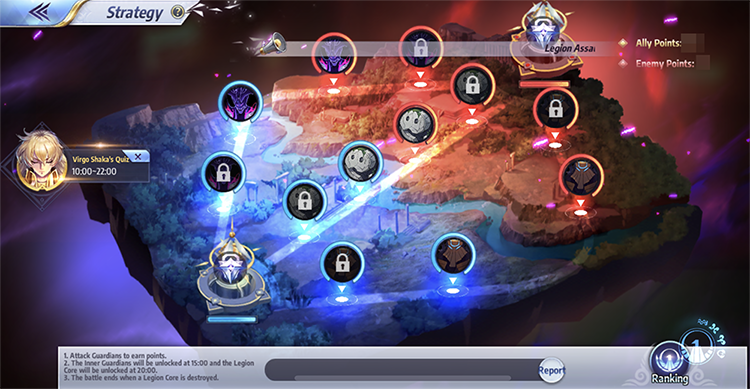 Lots of rewards can be earned from Legion Assault.
Rewards are available to all! Winners, losers, participants, as well as senior leadership of the Legions each, have their own rewards. Reach 1,000 points to get an additional reward.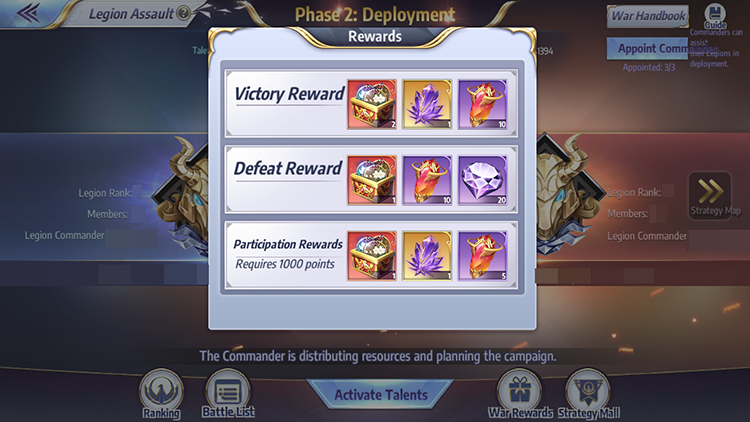 Legion Assault will be available every week. What are you waiting for?