YOOZOO Games, Shanghai - 29.09.2020 | Months after this fierce battle first kicked off, the world's best Saint Seiya: Knights of the Zodiac player was crowned on Saturday as part of the Jamir Final Championship.
Players of the popular mobile fantasy RPG have spent months proving their might, and perfecting their strategy to battle each other in the player versus player (PvP) arena through several rounds. From recruiting powerful characters to creating cunning strategies that heighten stats and make creative use of each saint's wondrous skills — basically, the Jamir Final Championship was the ultimate test of all the above.
The final battle was held on September 26th as WaspSalander and [ELY]Peepoodur - the top two players from the European and American servers - fought for the last time to accomplish glory. Streamed live to Saint Seiya: Knights of the Zodiac players around the world, the event also featured commentary in several languages, provided by Androly and Manano (English), Sebastian Quenu and Tackergaming (French), Sonecarox and Junior (Portuguese), and JustLuks09 and LarryLandia (Spanish), all fans and content creators for the game.
With the tournament concluded, we are now delighted to announce the winner as [ELY]Peepoodur.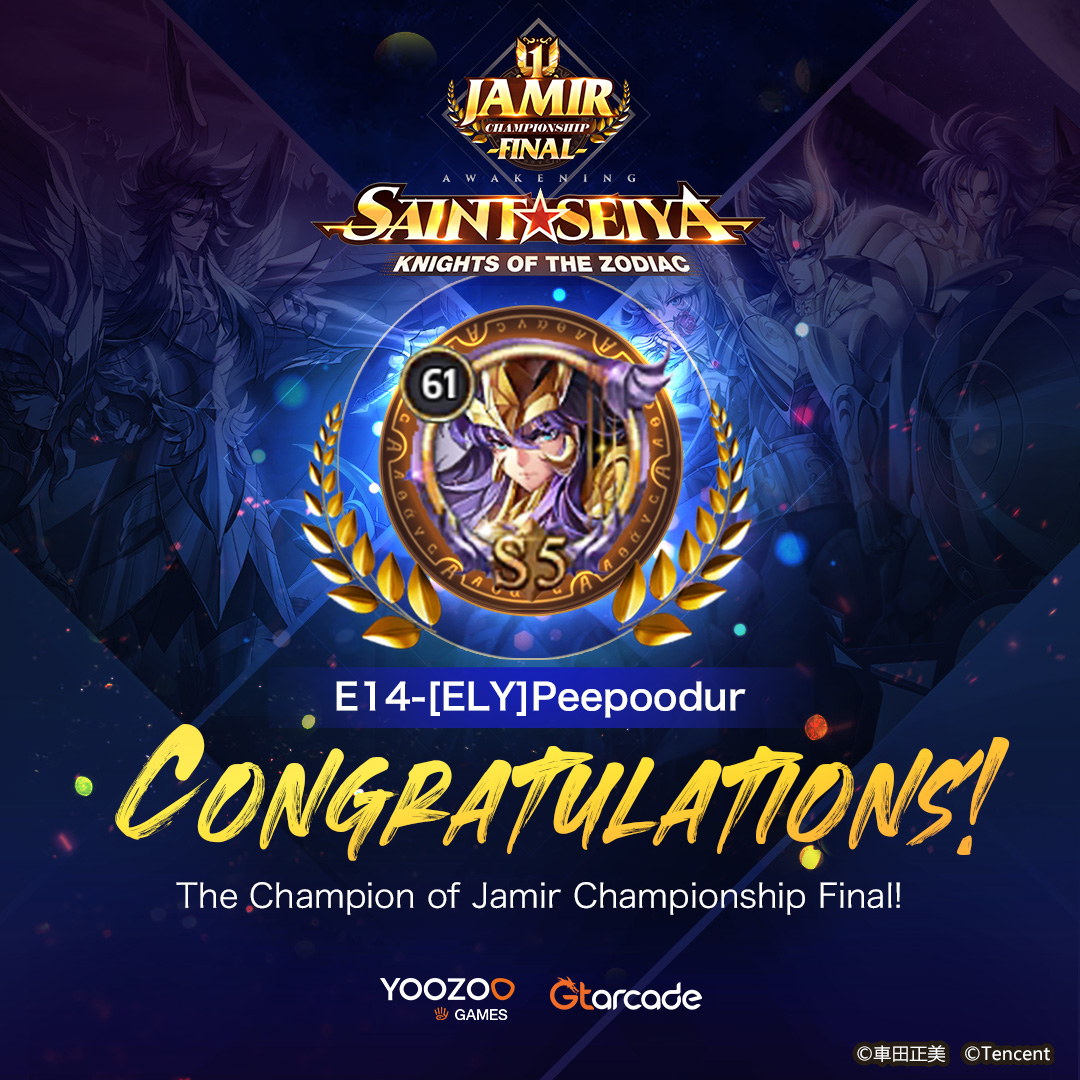 Over the past few months, players have been treated to a wave of anniversary celebrations. SSA KOTZ invited players to submit their best design for the 'Sea of Stars' skin design contest, which saw Palantiriel's work "Galactic Redemption" win with 231,333 votes. Crowned the Superstar Designer, Palantiriel won $1,400, as well as all in-game SS Saints and skins, and a Skin Designer showcase slot. 4 Star Designers were also rewarded a Golden Limited Edition Saint Cloth Myth Ex Dragon Shiryu as well as all available SS Saints and skins. "Galactic Redemption" will be given to every player for free in the game after Palantiriel's supervision and approval for the design.
About YOOZOO Games
YOOZOO Games is a global entertainment company specializing in game development and distribution. The company is headquartered in Shanghai with offices across Asia, Europe, and the US. Since its founding in 2009, YOOZOO has forged a strong global distribution network and launched over 40 highly successful titles including Game of Thrones Winter is Coming, the League of Angels series and Saint Seiya Awakening: Knights of the Zodiac.