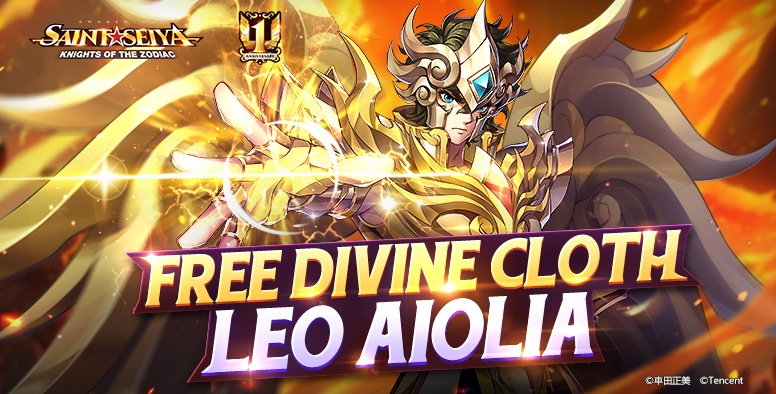 Divine Leo Aiolia
The god of time rewound his life and the blood of Athena awakened his Divine Cloth. Now his zeal and quest for justice drives him forward once more. His return is a declaration that the Gold Saints will always protect love and peace on Earth.
The Revival of the Divine Gold Saints
The Divine Cloths are the most powerful cloths that have existed since the Age of Myth. They are the closest thing to what the twelve gods of Olympus once wore. Because they are so extraordinary and rare, only a few gods have seen them. According to legend, Divine Cloths appeared during the Holy War, but many of Athena's reincarnations did not know of their existence.
The constellation Leo is represented by the Nemean Lion. This fearsome beast had golden fur that was impervious to all mortal weapons and claws that were sharper than any sword. However, it met its end at the hands of the legendary Heracles. Heracles fought against the Nemean lion for three days and three nights before finally slaying it. The lion was then placed into the sky by Hera to spite Heracles.
Leo, which symbolizes strength and courage, is the perfect Cloth for a Gold Saint who sits at the top of the Saints. As for me, who is protected by the lion, I prefer fighting with my fists over schemes and ploys. I have dedicated my all to Athena.
Starting September 9th (5:00 am), participate in anniversary events to witness the birth of the Gold Divine Cloths and redeem a 2-Star Divine Cloth Leo Aiolia.
Divine Leo Aiolia will be added to the summon pool after obtaining him first from the [Anniversary Redeem Shop]. At present, the Anniversary Redeem Store is the only way to obtain the Divine Leo Aiolia, so please remember to participate in the redemption activity!
Event period: September 9, 5:00 am to September 16, 5:00 am.