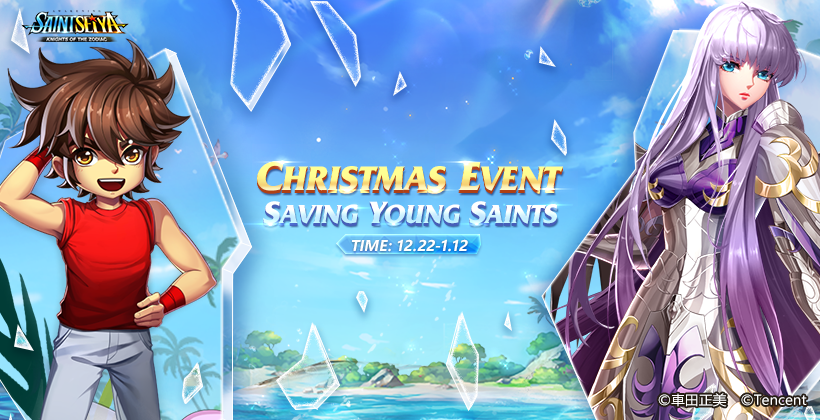 [Rules]
1. Saving Young Saints is a charity event. 100% of the net proceeds from the in-game exclusive pack sales during this event (at least 70% of the total revenue; the specific figure will be announced from server time January 12 05:00 to January 13 23:59) will be donated to Children's Cancer Foundation (CCF) to support children and families affected by cancer.
2. Players can make donations by purchasing packs. Each type of pack is only available for purchase 1 time.
3. The total amount raised will be displayed and tracked in real time. When the total amount (from all the servers combined) hits the target, players will receive extra rewards.
4. The money raised in European and American servers will be calculated and displayed separately in real time. The proceeds from both will be added up after the event.
5. The fundraising event will go on for three weeks. From December 22 05:00 to January 12 05:00, the Exclusive Packs are available for purchase. CCF will manage the proceeds. The organization will detail where the money is allocated in their annual report.
[Pack Details]
Phase One: Athena Exclusive Skin + Astral Gem x12 + Skill Tome Shard x10
Price: $19.99
Phase Two: Young Saint 8 Choose 1 + Limited-Time Astral Gem x5 + Dual Attribute Cosmo 4 Choose 1 Box x4
Price: $9.99
[Event Schedule]
Starting Time: December 22 05:00
Ending Time: January 12 05:00
Announcement: January 12 05:00 - January 13 24:00
Event officially ends at: January 13 24:00
[Important Notice]
1. 100% of the net proceeds from the in-game package sales (at least 70% of the total revenue; the specific figure will be displayed in-game from server time January 12 05:00 to January 13 23:59) will be donated to CCF.
2. The costume (Athena - Alternate) and Young Shiryu will be available in the Astral Gem Emporium. Players can redeem these items at the exchange rate of
Athena - Alternate = 40 Astral Gems
3. Players can obtain the avatar frame and the title in Event H5. These items will not be available in future events.
4. The donation may be allocated to the following projects:
1) Financial aid
CCF provides financial aid (FA) to families who are deemed to be in financial difficulties. FA may be disbursed under medical and non-medical schemes. Non-medical FA includes psychological evaluations, transportation fees, and ambulance services.
2) Psychosocial support
Psychosocial support covers different facets of one's life and is unique to each family based on their needs. The arrangement made depends on the child's diagnosis, developmental needs, and their ability to cope with their experience. Through CCF Integrated Hospital-Community-Home Service Model, CCF caseworkers help the children and their families effectively cope with the challenges that arise in every stage of their journey.
The psychosocial support program includes therapeutic play, child life, and hospital play services.
3) Family support
It is vital for CCF to assess the strength and needs of a child and their family. CCF aims to improve the well-being of the parents and their ability to cope. These parents often experience self-blame and lose themselves in their caregiving roles and responsibilities.
There might be a wide range of emotional and behavioral responses from the sibling(s) of the affected child. As the parents direct much of their attention to the ill child, the sibling(s) often feel lonely and neglected.
4) Palliative care and bereavement services
CCF Palliative care and bereavement services aim to improve the quality of life of the children and their families. The services provided aid the family members in caregiving duties, attending to children with poor prognosis or at the end of life.
The list of programs includes Wishlink Program, CCF Legacy Building Program, and ADORE: A Day of Remembrance.
5) Education
Returning to school after recovery is an important step for child and teen cancer survivors to reestablish normalcy in their life. Medical treatments, side effects, and hospitalization cause disruptions in a child's education. CCF works directly with the affected children to address any anxiety or issues they might face after returning to school.
6) Support various research efforts
CCF places great importance on creating an environment that enables and supports medical treatments for children affected by cancer. For this purpose, we continue to collaborate with our strategic partners and provide funding for various programs.
6. CCF will be in charge of the proceeds from this event. Its allocation will be detailed in the annual report for year 2021.
7. Visit CCF's official website at "https://www.ccf.org.sg/" for more details on the organization and their work.