YOOZOO Games, 21.04.2020 | This month, we've already seen themed summons for Underworld Shun and Papillon Myu. Today, the SSA: KOTZ official Facebook page released a banner for SS saint Athena. The chance to summon Goddess Athena is increased until May 6th.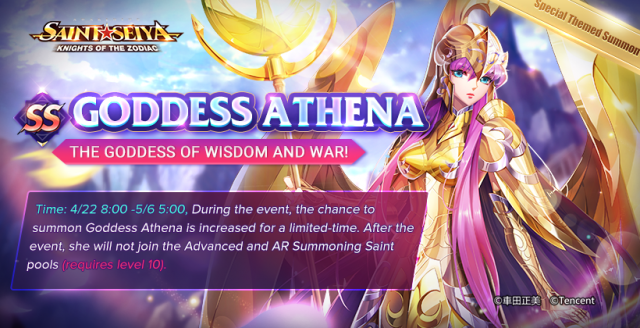 Just last week we saw the in-game release of new expansion sets. Dragon and Treasure Hunter will be available for the next 4 weeks – with new skins for Poseidon, Sea Dragon Kanon and Scylla lo. There's a new chapter release every week, with new rewards up for grabs in every new challenge – including rare Cloth.
So how difficult is the challenge? In fact, it's not that difficult. The first few levels are for more junior players, but Saints may struggle to get past level 3. Players must choose their fighter wisely, taking into account the unique skills of each fighter. Let us know which level you get past!
Additionally, there are some important updates to PVP modes. In the Top PVP Competition, registration for the audition rounds will now start on the 1st of each month till the next Sunday (if the 1st is Sunday, the deadline will be the next Sunday). The audition rounds have changed from manual registration to automatic registration, so all players can take part in the tournament. Elimination round will now last a full week, and there are limited initial points in the Jamir Championship - players get maximum base points when they get up to Legendary 40 stars. Last month's critically acclaimed PVP Melee will return in the last two weeks' weekends of April.
Burn Your Cosmos, Saints!
Saint Seiya Awakening: Knights of The Zodiac
* * * * * * * * * *
Play Saint Seiya Awakening: Knights of The Zodiac
Stay up to date on Facebook, Twitter and Instagram
* * * * * * * * * *
About YOOZOO Games
YOOZOO Games is a global entertainment company specializing in game development and distribution. The company is headquartered in Shanghai with offices across Asia, Europe, and the US. Since its founding in 2009, YOOZOO has forged a strong global distribution network and launched over 40 highly successful titles including Game of Thrones Winter is Coming, the League of Angels series and Saint Seiya Awakening: Knights of the Zodiac.