Mobile RPG Saint Seiya Awakening: Knights of the Zodiac – Top PVP Jamir Championship, Poseidon Chapter, and so much more...
YOOZOO Games, Shanghai — 07.11.19 | Despite being out for only a few months, Saint Seiya Awakening: Knights of the Zodiac is already the number 1 RPG in France, and top 10 in 20 countries worldwide.
The game is inspired by Masami Kurumada's original manga series and follows a collection of warriors known as Saints, as they fight to protect the goddess Athena in her battle against Olympian Gods.
The mobile RPG offers an action-packed and visually-stunning game featuring top-grade 3D graphics. Restoring the widely loved Childhood classic comic, the game has a style perfectly reproducing Kurumada's original work. With truly flawless graphics, and gameplay that feels true to the anime classic, it's no wonder we keep seeing it popping up on the Google Play and APP stores recommendation lists!
Last month saw the launch of two very popular time-limited Saints: Gemini Saga and Libra Dohko. There was also the Fortune Cat event, which went down very well with the fans. Let's take a look at what new updates we can expect to see soon.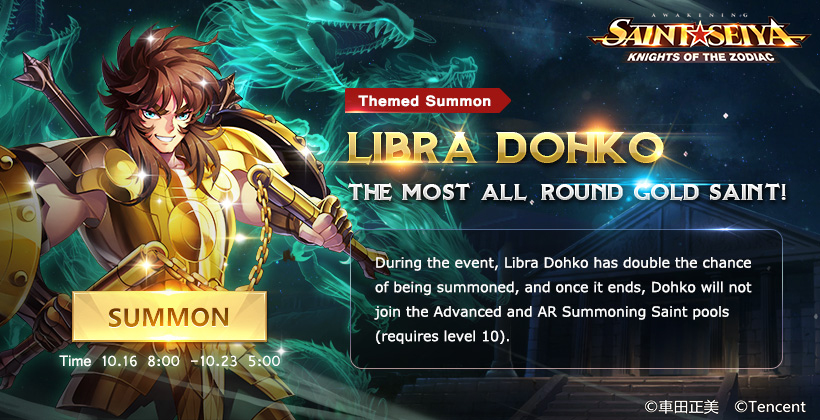 The game has entered the Poseidon Chapter. There's a brand new feel in the game, and the right background music to accompany it.
New Saint, Sea Dragon Kanon, and his twin brother Gemini Saga, will return to the summon pool. Players should log in during the week to enjoy exclusive content and events focusing on the story between the twins. In addition to Kanon, players can look forward to nearly ten new Marinas joining the battle in Poseidon Chapter!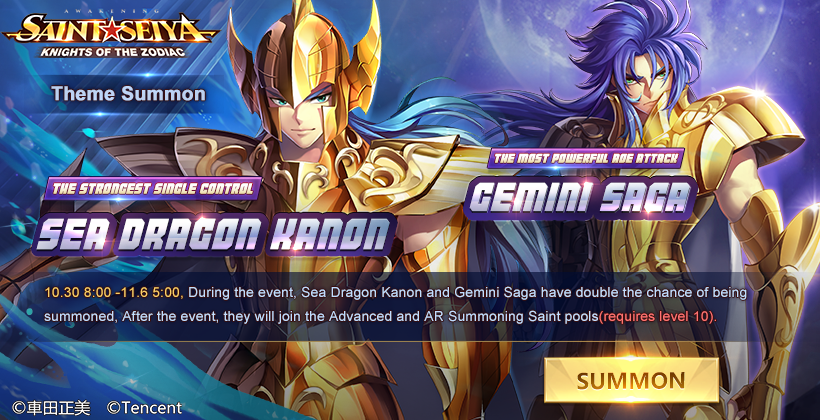 Furthermore, there are two brand-new modes to enjoy right now. In The Shrine, players have chance to get their hands on brand-new more powerful Cosmos. There's the chance to get plenty of gold coins in The Coffers. Both modes are pretty challenging, have you got what it takes?
Top PVP Competition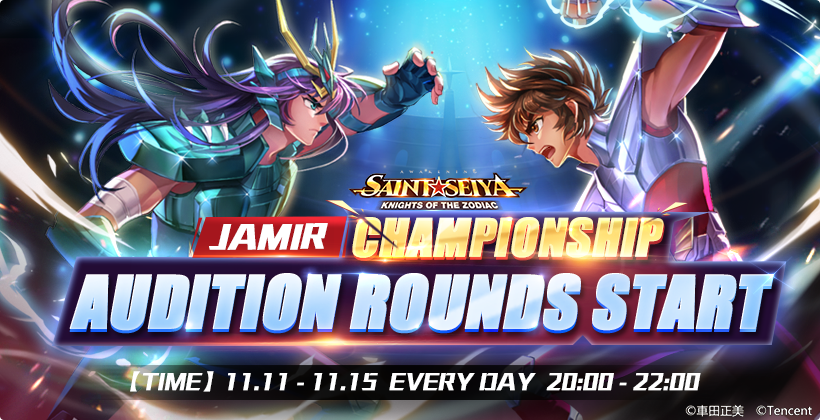 Registration closes for the Jamir Championship this Sunday. Starting on Monday, players will fight in an 18-day competition which will crown the best of the best across all servers.
Lots to look forward to!
The mobile RPG is available to download now from the App store and Google Play. Follow SSA: KOTZ on Facebook to stay up to date with the latest news.
* * * * * * * * * *
About YOOZOO Games
YOOZOO Games is a global entertainment company specializing in game development and distribution. The company is headquartered in Shanghai with offices in London, Berlin, Hong Kong, Singapore, and other major cities. Since its founding in 2009, YOOZOO has launched a multitude of highly successful products such as Game of Thrones Winter is Coming, Legacy of Discord – Furious Wings and League of Angels, and has forged a strong global distribution network.
Official Site http://www.yoozoo.com/
Global Game Portal https://www.gtarcade.com/
LinkedIn linkedin.com/company/yoozoogames